afterthought autos Ground Hog's Day promo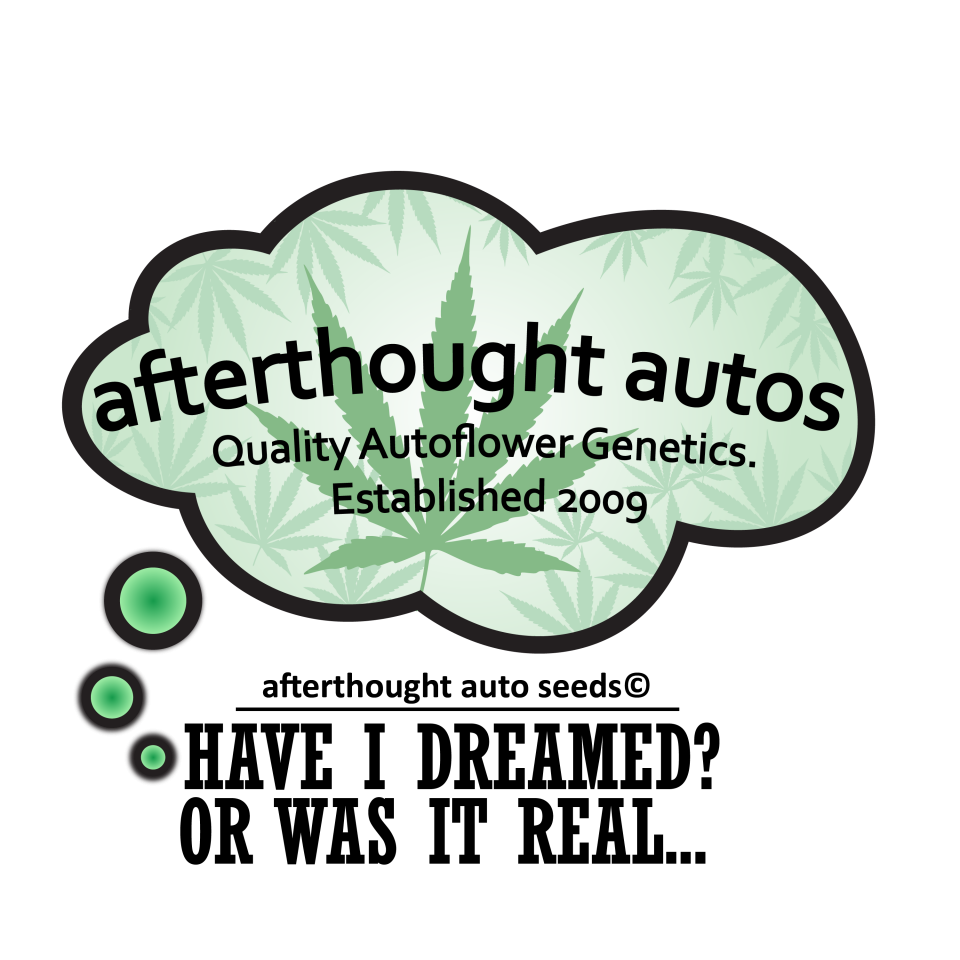 So, why not open it up for our favorite holiday (SPRING's COMING!) with some savings?
JANUARY 30- FEBRUARY 3, 2019
All strains are $30 (minimum purchase 2 packs @ 14 kernels per pack) instead of our catalog price of $40 per pack. Thereafter, any packs are $30 PLUS ample freebies of your choice.
As always, shipping is $6.00 in USA & $10.00 to Canada. Postal Rates will change during our MAY DAY SALE.
AUTOFLOWERING GENETICS:
20 GAUGE (Auto AK 47/Low Ryder x Critical auto)
AZURE ROCKET (Mini Gun x Ryder/Top 44 x Blue hybrid)
BLUEBERRY JAR (Blueberry auto x Jack Herer auto hybrid)BUBBALOO (Bubblegum auto x AK 47)
CHARLIE HORSE (CBD Crew Outdoor Mix/VITALITY (Red Kali-mist x Red Dutch Passion Flo) x Bubba Kush auto. 80%
CORD VERDE (Matanuska (Alaskan) auto, along with a lower Rocky Mountain Ruderalis (San Juan/Sangre de Cristo).
DIABLO GRANDE(Herer/Haze x Ogre)
EMPEROR'S BANDANA (Herer x Head Band)
FOG CUTTER (Haze/Herer/BUZZY BODY)
GAS & GUNS (Auto Diesel x AK auto)
KILTER (Scottish sativa x White Domina/Ogre)
LEMON HAZE
LOOT Friend Loot's strain (Netherlands) x 20 Gauge
MAGNETIC MIDNIGHT (Northern Lights/Russian auto)
PERMAFROST (Northern Lights x Cali Kush)
POLAR LIGHT (Magnetic Midnight x Bubble Gum/AK)
PRESTO (Mini Gun/Blue Himalayan auto)
SHABAM! (Haze/Silver/Buzzy Body/Herer)
TOKAREV T-3 x SOUR BUBBLE
PHOTOPERIODS:
ANODYNE Harlequin/Sunshine Day Dream x Sour Tsunami hybrid
CASEY JONES hybrid x AFGHAN
CBD x CRITICAL MASS
DANISH x HAZE
JUMPING JACK INDIGO (Mendo Purple/Apollo 13) x Blueberry
MAUVELOUS (PURPLE URKLE/99 x BLUEBERRY)
POKEY DOKE (Granddaddy Purple/Grape Sorbet x Cherry indica)
SANGRIA (Purple Urkle x Blueberry x Cherry indica)
SHISHKABERRY x CRITICAL MASS
SOUR TANGIE x AFGHAN
TRAINWRECK x AFGHAN
TRAINWRECK x PANTHERA (cinnamon/white auto)
---