Are We Sleeping On The Women In Cannabis Media?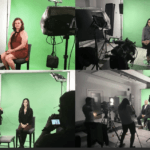 Recently, 420MEDIA CEO Kerri Accardi sat down with Tracy Lamourie for MJ News to discuss the exciting launch of her groundbreaking new venture A New Cannabis Channel.  Here's a peek into that conversation: TRACY LAMOURIE: You have been doing some amazing things in the media and the cannabis space, and now you are combining the
Read the full article...
---
By accepting you will be accessing a service provided by a third-party external to https://www.mjlink.com/